Best of Georgia and Azerbaijan - 12 days (CT-03)
Neighbours Georgia and Azerbaijan are very different but each is compelling in its own right. This 12 day tour begins in Georgia, where you'll be blown away by the wonderful hospitality of the Caucasus. You'll tour hilltop monasteries, imposing fortresses, fascinating museums and ancient cave cities, as well as learn how an 8000 year tradition of viticulture produces some very fine wine. Crossing the border, you'll discover the sights of the "fire country" Azerbaijan. From Baku's Flame Towers to the burning hillside of Yanar Dag, Azerbaijan wows visitors. But the secrets of an ancient nation are waiting to be uncovered, as you'll see in Sheki, Shamakhi and Gobustan.

Akhaltsikhe

Gobustan

Baku

Uplistsikhe

Gori

Mtskheta

Tbilisi

Sighnaghi

Kutaisi

Vardzia

Sheki

Book now

from $2,195 per person,

12 days







Welcome to Georgia! Our representative will be waiting for you at the airport for your transfer to your city centre hotel in the capital Tbilisi. Overnight in Tbilisi. (D)

With its compact old town and friendly residents, getting to know Tbilisi is a cinch. Our guide will show you some of the historic highlights of the capital, beginning with the 13th century Methekhi church. Tbilisi has long been fortified and we shall ascend by cable car to the hilltop fortress of Narikala, from where it is a short stroll to the imposing Mother Georgia statue. Next up, we'll visit Antchiskhati Church (6th century), Sioni Cathedral (12th century) and an ancient synagogue. We'll round off your introduction to this fascinating city with a look around the Georgian National Museum and a stroll along Tbilisi's main thoroughfare, Rustaveli Avenue. Overnight in Tbilisi. (B, D).

Day 3. Tbilisi - Mtskheta - Kutaisi

You'll depart Tbilisi this morning, but we won't travel far before our first stop of the day. Mtskheta was the capital city long before Tbilisi and it remains one of Georgia's most important religious centres to this day. You'll enjoy a guided tour of Djvari Church (6th century) and Svetitskhoveli Cathedral (11th century), both of which feature on UNESCO's World Heritage list. Moving on, we'll head in the direction of the second largest city in the country, Kutaisi, making a slight detour to admire the stalactites and stalagmites of Prometheus Cave. Overnight near Kutaisi. (B,D).

Day 4. Kutaisi - Akhaltsikhe

The energy and passion invested in the sale of livestock throughout the Caucasus makes a trip to an animal bazaar a highlight of any trip. We'll look on as the farmers haggle to get the best price for what they've reared. Then it's time to move on, and we have another pair of UNESCO sites lined up. The Gelati Monastery and Academy Complex dates from the 12th century and was constructed on the edge of a steep gorge overlooking the Tskaltsitela River. Its many murals, mosaics and mediaeval works of art make this an extraordinary destination for anyone with an interest in Georgia's rich heritage. After a visit to Bagrati Cathedral we'll make our way to Akhaltsikhe where we will spend the next two nights. Overnight in Akhaltsikhe. (B,D).

One of the many delights of a visit to Georgia is to explore its vast subterranean cities. This underground world is best represented by the cave city of Vardzia, which was excavated from the slopes of Mount Erusheti on the bank of the River Kura. There, around 300 caves were once purposed for churches, refectories, wine cellars and private dwellings. After we've explored, we'll drive to Rabati Fortress. Inside we'll look around its fascinating Ethnographic Museum before returning to Akhaltsikhe. Overnight in Akhaltsikhe. (B,D).

Day 6. Akhaltsikhe - Gori - Tbilisi

Some of Georgia's most interesting historical events took place in the last two hundred years. Driving via Borjomi and its pretty park, the city of Gori is the star of today's itinerary. It's claim to fame is that it was the birthplace of Joseph Stalin, the Soviet leader known for taking a hard line on political matters. The museum devoted to his life offers an insight not only into key events but also into how the Georgians view their infamous compatriot. Near Gori lies one of the most interesting places on the ancient Silk Road - Uplistikhe. A guided tour has been arranged of this cave city, after which we'll drive back to Tbilisi. Tonight, a special performance of folk dancing and a traditional meal awaits. Overnight in Tbilisi. (B,D).

Day 7. Tbilisi - Kazbegi - Sighnaghi

Georgia boasts an 8000 year tradition of viticulture and the techniques used are quite different to those favoured in France, Germany or Italy. Today you'll explore the region of the country most associated with wine growing, Kakheti. There are visits to Alaverdi Monastery and the royal citadel and the Church of the Archangels which form the Gremi complex. A wine tasting has been arranged at the Twins Wine Cellar in Napareuli. This afternoon, we'll continue on to the picturesque town of Sighnaghi. Its cobbled streets, fortified walls and views across lush valleys make it one of the prettiest towns in the country. Overnight in Sighnaghi. (B,D).

Today's the day we cross the border into Azerbaijan. But we can't leave without seeing Bodbe Monastery, just a couple of kilometres down the road from Sighnaghi. It's dedicated to St Nino, who preached Christianity here in the 4th century. At Lagodekhi you'll cross the border and meet your Azeri guide. Taking the road to Sheki, you'll stop at the village of Kish. The main monument is an Albanian church whose history can be traced back to at least the 6th century, perhaps even as early as the 1st century. Under glass, you can see the bones of people buried here many centuries ago. These people would have looked very different to those who live in the Caucasus today, with blonde hair and a tall physique, giving rise to the village's nickname "land of Atlantis". Overnight in Sheki. (B,D).

Sheki is the oldest city in Azerbaijan and was founded as a Silk Road city. It's worth looking around the history museum to learn a little about how the place has developed and altered over the years. You'll also pay a visit to the Khan's summer palace. With floral motifs on its elaborate façade and beautiful frescoes adorning the interiors, this is an insight into the lavish world of the rich and powerful. No expense was spared to create mirrored balconies, decorations of Venetian glass and paintings of hunting scenes. A casualty of time is the garden, however, as only two trees remain. Our second stop is at Shamakhi. Once the capital of the Shirvan Empire, it's now more famous as a centre for wine-making. You'll visit the Yeddi Gumbez mausoleum and also the Diri Baba tomb. From there we'll drive to Baku. Overnight in Baku. (B,D).

The capital of Azerbaijan has changed dramatically in recent years, its booming economy and 21st century architecture built on the profits from oil. From a lofty vantage point, you'll take in the views over the city and Baku Bay. You'll easily spot the capital's best known trio: the recognisable shapes of the Flame Towers. We've arranged a guided tour of Baku's old town, the Icheri sheher, bounded on three sides by thick walls and on the fourth by the Caspian Sea. This city within a city is crammed full of historic monuments and noteworthy buildings, including the Shirvanshah Palace, home of the Shahs and the Maiden Tower, which predates the palace. Silk route trade from Russia to Iran brought great wealth and with it the construction of mosques, caravanserais and bathhouses, many of which remain to this day. Overnight in Baku. (B,D).

Day 11. Baku - Ateshgah - Gobustan - Yanar Dag - Baku

Today's sightseeing takes us to Ateshgah and its temple of fire worshippers. Resembling a castle, it's been a place of significance for Hindus, Sikhs, and Zoroastrians. Though the current structures are dated to around the 17th century, artefacts excavated indicate a much longer history. An excursion to Gobustan is also included, where you'll see petroglyphs and other ancient sites. Over 6000 rock carvings depict primitive people, animals, battles, ritual dances, camel caravans and even bullfights, dating back 5,000 to 20,000 years. The area is also home to many mud volcanoes. You'll also visit Yanar Dag, continuously burning thanks to the gases which escape from the rocks. No wonder Azerbaijan is often called "the fire country". Overnight in Baku. (B, D).

Sadly, your Caucasus adventure draws to a close today. A driver will have you at the airport in good time for your flight home. (B)

SAVE UP TO $250 PER PERSON
THE SOONER YOU BOOK, THE HIGHER DISCOUNT YOU GET. SALE ENDS 30 NOVEMBER 2021
FREE CANCELLATION UP TO 3 WEEKS BEFORE DEPARTURE
VISIT "SPECIAL OFFERS" TO GET DISCOUNT CODES AND VIEW THE SALE CALENDAR

Want to travel on different dates?

Please see below for our group tour dates, if you would like to travel on a different day, please

let us know

and we will come back to you with an offer. There might be additional surcharges for a private tour but all depends on the number of people in your party and your travel preferences.

Note on pricing

Prices depend on the hotel category and are listed below. Please read

notes

at the bottom of the table to learn more about the meaning of each pricing section.

2021 2022
COMFORT - 3* PACKAGE
| | | | | |
| --- | --- | --- | --- | --- |
| Dates | Excluding flights | Single supplement | Solo supplement | Book |
| 10.25.2021 - 11.05.2021 | $2,195 | $295 | $1,025 | book now |
| 11.01.2021 - 11.12.2021 | $2,195 | $295 | $1,025 | book now |
| 11.08.2021 - 11.19.2021 | $2,195 | $295 | $1,025 | book now |
| 11.15.2021 - 11.26.2021 | $2,195 | $295 | $1,025 | book now |
| 03.21.2022 - 04.01.2022 | $2,195 | $295 | $1,025 | book now |
| 03.28.2022 - 04.08.2022 | $2,195 | $295 | $1,025 | book now |
| 04.04.2022 - 04.15.2022 | $2,195 | $295 | $1,025 | book now |
| 04.11.2022 - 04.22.2022 | $2,195 | $295 | $1,025 | book now |
| 04.18.2022 - 04.29.2022 | $2,195 | $295 | $1,025 | book now |
| 04.25.2022 - 05.06.2022 | $2,195 | $295 | $1,025 | book now |
| 05.02.2022 - 05.13.2022 | $2,195 | $295 | $1,025 | book now |
| 05.09.2022 - 05.20.2022 | $2,195 | $295 | $1,025 | book now |
| 05.16.2022 - 05.27.2022 | $2,195 | $295 | $1,025 | book now |
| 05.23.2022 - 06.03.2022 | $2,195 | $295 | $1,025 | book now |
| 05.30.2022 - 06.10.2022 | $2,195 | $295 | $1,025 | book now |
| 06.06.2022 - 06.17.2022 | $2,195 | $295 | $1,025 | book now |
| 06.13.2022 - 06.24.2022 | $2,195 | $295 | $1,025 | book now |
| 06.20.2022 - 07.01.2022 | $2,195 | $295 | $1,025 | book now |
| 06.27.2022 - 07.08.2022 | $2,195 | $295 | $1,025 | book now |
| 07.04.2022 - 07.15.2022 | $2,195 | $295 | $1,025 | book now |
| 07.11.2022 - 07.22.2022 | $2,195 | $295 | $1,025 | book now |
| 07.18.2022 - 07.29.2022 | $2,195 | $295 | $1,025 | book now |
| 07.25.2022 - 08.05.2022 | $2,195 | $295 | $1,025 | book now |
| 08.01.2022 - 08.12.2022 | $2,195 | $295 | $1,025 | book now |
| 08.08.2022 - 08.19.2022 | $2,195 | $295 | $1,025 | book now |
| 08.15.2022 - 08.26.2022 | $2,195 | $295 | $1,025 | book now |
| 08.22.2022 - 09.02.2022 | $2,195 | $295 | $1,025 | book now |
| 08.29.2022 - 09.09.2022 | $2,195 | $295 | $1,025 | book now |
| 09.05.2022 - 09.16.2022 | $2,195 | $295 | $1,025 | book now |
| 09.12.2022 - 09.23.2022 | $2,195 | $295 | $1,025 | book now |
| 09.19.2022 - 09.30.2022 | $2,195 | $295 | $1,025 | book now |
| 09.26.2022 - 10.07.2022 | $2,195 | $295 | $1,025 | book now |
| 10.03.2022 - 10.14.2022 | $2,195 | $295 | $1,025 | book now |
| 10.10.2022 - 10.21.2022 | $2,195 | $295 | $1,025 | book now |
| 10.17.2022 - 10.28.2022 | $2,195 | $295 | $1,025 | book now |
| 10.24.2022 - 11.04.2022 | $2,195 | $295 | $1,025 | book now |
| 10.31.2022 - 11.11.2022 | $2,195 | $295 | $1,025 | book now |
| 11.07.2022 - 11.18.2022 | $2,195 | $295 | $1,025 | book now |
| 11.14.2022 - 11.25.2022 | $2,195 | $295 | $1,025 | book now |
PREMIUM - 4* PACKAGE
| | | | | |
| --- | --- | --- | --- | --- |
| Dates | Excluding flights | Single supplement | Solo supplement | Book |
| 10.25.2021 - 11.05.2021 | $2,345 | $445 | $1,025 | book now |
| 11.01.2021 - 11.12.2021 | $2,345 | $445 | $1,025 | book now |
| 11.08.2021 - 11.19.2021 | $2,345 | $445 | $1,025 | book now |
| 11.15.2021 - 11.26.2021 | $2,345 | $445 | $1,025 | book now |
| 03.21.2022 - 04.01.2022 | $2,345 | $445 | $1,025 | book now |
| 03.28.2022 - 04.08.2022 | $2,345 | $445 | $1,025 | book now |
| 04.04.2022 - 04.15.2022 | $2,345 | $445 | $1,025 | book now |
| 04.11.2022 - 04.22.2022 | $2,345 | $445 | $1,025 | book now |
| 04.18.2022 - 04.29.2022 | $2,345 | $445 | $1,025 | book now |
| 04.25.2022 - 05.06.2022 | $2,345 | $445 | $1,025 | book now |
| 05.02.2022 - 05.13.2022 | $2,345 | $445 | $1,025 | book now |
| 05.09.2022 - 05.20.2022 | $2,345 | $445 | $1,025 | book now |
| 05.16.2022 - 05.27.2022 | $2,345 | $445 | $1,025 | book now |
| 05.23.2022 - 06.03.2022 | $2,345 | $445 | $1,025 | book now |
| 05.30.2022 - 06.10.2022 | $2,345 | $445 | $1,025 | book now |
| 06.06.2022 - 06.17.2022 | $2,345 | $445 | $1,025 | book now |
| 06.13.2022 - 06.24.2022 | $2,345 | $445 | $1,025 | book now |
| 06.20.2022 - 07.01.2022 | $2,345 | $445 | $1,025 | book now |
| 06.27.2022 - 07.08.2022 | $2,345 | $445 | $1,025 | book now |
| 07.04.2022 - 07.15.2022 | $2,345 | $445 | $1,025 | book now |
| 07.11.2022 - 07.22.2022 | $2,345 | $445 | $1,025 | book now |
| 07.18.2022 - 07.29.2022 | $2,345 | $445 | $1,025 | book now |
| 07.25.2022 - 08.05.2022 | $2,345 | $445 | $1,025 | book now |
| 08.01.2022 - 08.12.2022 | $2,345 | $445 | $1,025 | book now |
| 08.08.2022 - 08.19.2022 | $2,345 | $445 | $1,025 | book now |
| 08.15.2022 - 08.26.2022 | $2,345 | $445 | $1,025 | book now |
| 08.22.2022 - 09.02.2022 | $2,345 | $445 | $1,025 | book now |
| 08.29.2022 - 09.09.2022 | $2,345 | $445 | $1,025 | book now |
| 09.05.2022 - 09.16.2022 | $2,345 | $445 | $1,025 | book now |
| 09.12.2022 - 09.23.2022 | $2,345 | $445 | $1,025 | book now |
| 09.19.2022 - 09.30.2022 | $2,345 | $445 | $1,025 | book now |
| 09.26.2022 - 10.07.2022 | $2,345 | $445 | $1,025 | book now |
| 10.03.2022 - 10.14.2022 | $2,345 | $445 | $1,025 | book now |
| 10.10.2022 - 10.21.2022 | $2,345 | $445 | $1,025 | book now |
| 10.17.2022 - 10.28.2022 | $2,345 | $445 | $1,025 | book now |
| 10.24.2022 - 11.04.2022 | $2,345 | $445 | $1,025 | book now |
| 10.31.2022 - 11.11.2022 | $2,345 | $445 | $1,025 | book now |
| 11.07.2022 - 11.18.2022 | $2,345 | $445 | $1,025 | book now |
| 11.14.2022 - 11.25.2022 | $2,345 | $445 | $1,025 | book now |
Note on pricing:
All prices are per person, in British Pounds. All included services are listed in the tour overview section.
Price "Including flight" is subject to airfare availability and will be reconfirmed upon your booking. We advise not to delay with booking your tour as airfares may go up.
Price "Excluding flight" does not cover airfare, you are free to book your own flights.
Single supplement goes towards single room accommodation.
Solo supplement is payable in the unlikely event when you are the only person on the tour. It will be refunded if other people join the same tour.
Hotel Dolabauri
3*
Hotel Coste
Tbilisi 4*
Hotel Sani
Kutaisi 3*
Hotel Tskaltubo Plaza
Kutaisi 4*
Hotel Tiflis
Akhaltsikhe 3*
Hotel Lomsia
Akhaltsikhe 4*
Hotel Briggite
Sighnaghi 3*
Hotel Kabadoni
Signaghi 4*
Issam Hotel
Sheki 3*
Sheki Palace
Hotel 4*
Diplomat Hotel
Baku 3*
Central Park Hotel
Baku 4*
Address: 1a Dolabauri Street, Tbilisi, Georgia
Telephone: +995 322 27 73 73
DESCRIPTION
Located on the north bank of the Mtkvari River a short distance from the main sights, the Hotel Dolabauri is close to public transport. It is a modern four star hotel which is decorated in a classic yet contemporary style. Every room is air-conditioned and have ensuite bathrooms; some have views of the river or the hills beyond the city. Amenities include flat-screen TV and a minibar.
The hotel has its own restaurant which serves both Georgian and European dishes. There's also an on-site bar. Free WiFi and a 24 hour front desk add to guests' convenience.
PHOTOGALLERY
top
Address: 45a Merab Kostava Str, Tbilisi, Georgia
Telephone: +995 32 219 11 11
DESCRIPTION
The newly renovated Costé Hotel is an excellent choice for discerning guests. Featuring contemporary design, it places a firm emphasis on service as well as style. The hotel has many facilities aimed at enhancing guests' stay, including a library and wine corner, free WiFi and free on-site parking. Its restaurant offers Georgian and European cuisine.
The 60 rooms are well equipped and have air conditioning, a seating area and flat screen TV with cable channels. The location just a short stroll from Rustaveli Avenue ensures you are at the centre of the action.
FACILITIES
24 hour reception
24 hour housekeeping
Concierge service
Business centre

Deposit boxes
Air-conditioning
Complimentary bikes rental
Free internet access
PHOTOGALLERY
top
Address: 22 B D. Aghmashenebeli Avenue, Kutaisi, Georgia
Telephone: +995 571 77 75 34
DESCRIPTION
The Sani Kutaisi occupies a location within walking distance of Kutaisi's central sights. It's a short drive to Gelati Monastery, which can be found just 6.8 miles away. The comfortable rooms feature flat screen TV, desk, private bathrooms and free WiFi as standard. The hotel also provides other services such as laundry, luggage storage and a 24 hour front desk.
There's an on-site coffee house and guests have the use of a shared kitchen should they wish to self cater. Kutaisi's many restaurants are within easy reach.
PHOTOGALLERY
top
Hotel Tskaltubo Plaza Kutaisi 4*
Address: 15a Rustaveli St, Tskaltubo (near Kutaisi), Georgia
Telephone: +995 436 222 393
DESCRIPTION
Hotel Tskaltubo Plaza is located right in the centre of spa town Tskaltubo close to Kutaisi. It offers 76 rooms equipped with a tea and coffee maker, plasma TV, air conditioning, minibar, in-room safe, WiFi and telephone.
The hotel has its own restaurant serving both Georgian and European dishes and there's also a terrace bar and patio area with live music, both perfect for relaxing. The hotel offers a wide range of other facilities including a massage room, Finnish sauna and gym. There is car parking on site and free luggage storage.
FACILITIES
24 hour reception
Room service
Private parking
Laundry services
Bar

Business centre
Medical treatments
Fitness centre
Sauna
Free internet access
PHOTOGALLERY
top
Hotel Tiflis Akhaltsikhe 3*
Address: 12 Aspindza Street, Akhaltsikhe, Georgia
Telephone: +995 568 11 11 88
DESCRIPTION
Rooms at the three star Hotel Tiflis are simply furnished in a contemporary style with modern bathrooms. Larger rooms feature a seating area with comfortable sofas. Situated in the centre of Akhaltsikhe, a ten minute walk to Rabati castle, the hotel has a bar and terrace as well as its own restaurant. Outside seating comes into its own in summer.
Rooms benefit from air conditioning, desk, kettle, flat-screen TV with satellite channels, and ensuite bathrooms with shower and hairdryer. There's a 24 hour front desk and free WiFi.
PHOTOGALLERY
top
Hotel Lomsia Akhaltsikhe 4*
Address: 10 Kostava Str., Akhaltsikhe, Georgia
Telephone: +995 365 222 001
DESCRIPTION
Located right at the heart of historic Akhaltsikhe, the Lomsia hotel is within easy reach of the town's attractions. There are 63 well-equipped rooms offering a configuration to suit any party. All have a private bathroom with bath or shower, satellite TV and telephone.
The hotel offers high speed WiFi throughout the building and there are several public spaces designed to offer relaxation and refreshment. The Tamar restaurant offers a selection of delicious Georgian dishes while the terrace is perfect for people watching while sipping a morning coffee. There's also a bar and lounge area.
FACILITIES
24 hour reception
Private parking
Laundry service
Business centre
Conference room
Air-conditioning
Free internet access
PHOTOGALLERY
top
Hotel Briggite Sighnaghi 3*
Address: 13 Tamar Mepe street, Sighnaghi, Georgia
Telephone: +995 355 23 80 80
DESCRIPTION
The Hotel Brigitte occupies a prime location right in the heart of pretty Signagi. A number of excellent restaurants and the Pheasant's Tears winery are within walking distance. Also nearby are major attractions such as the Signagi National Museum and the town's fortifications. The hotel itself has a small ethnographic museum on site.
Rooms are clean, comfortable and classically styled with flat screen TV and ensuite bathroom with hairdryer. The on-site restaurant serves local cuisine and the hotel also has its own wine cellar. There's a sun terrace and swimming pool for use by summer guests.
PHOTOGALLERY
top
Hotel Kabadoni Signaghi 4*
Address: 1 Tamar Mepe street, Sighnaghi, Georgia
Telephone: +995 322 24 04 00
DESCRIPTION
This exceptionally well located hotel in the historic heart of Signagi is a firm favourite with travellers. The views from the hotel overlooking the vineyards of the Alazani Valley root it firmly to its hinterland. From the hotel it's a short stroll to the historic ramparts which partially enclose Signagi as well as to a number of shops, restaurants and cafés. The hotel itself has a restaurant serving both Georgian and European cuisine. The hotel's wine bar showcases local as well as international wines.
The 21 ensuite rooms in this boutique hotel represent excellent value for money. They are furnished in a contemporary style, with a muted colour palette and modern fixtures and fittings. Elements of Georgian design successfully balance the minimalist furnishings to achieve character. The emphasis is on quality, comfort and style, while of course attentive service remains key. The hotel has an indoor pool, gym, spa and wellness centre and beauty salon. Rooms also feature an iPod docking station, flat screen television and WiFi.
FACILITIES
24 hour reception
Private parking
Laundry service
Conference room
Air-conditioning
Free internet access
PHOTOGALLERY
top
Address: 31 District, Shahriyar Str., Sheki, Azerbaijan
Telephone: + 994 24 244 87 81
DESCRIPTION
Found right at the heart of Sheki, the Issam Hotel and Spa is a resort hotel with a city centre location. The comfortable modern rooms all feature air conditioning, flat screen TV and minibar. En suite, guests are provided with slippers, bath robes, hair dryer and complimentary toiletries.
The hotel scores highly on its leisure facilities which include an indoor swimming pool, a spa centre offering a wide range of treatments, fully-equipped gym and a sauna. Guests also enjoy free WiFi and free private parking. The hotel's restaurant offers a good selection of Azeri and international cuisine, and there's also a popular hotel bar.
FACILITIES
24 hour reception
Room service
Private parking
Indoor swimming pool
Spa centre
Free internet access
PHOTOGALLERY
top
Address: Akhundzada Avenue, Sheki, Azerbaijan​
Telephone: +994 24 244 90 44
DESCRIPTION
Located close to the Palace of Sheki Khans in the heart of the old city, the five star Sheki Palace Hotel has an impressive façade, but it's when you step inside that the hotel's quality becomes apparent. The 46 tastefully furnished rooms are decorated in a classic style. All amenities can be expected, including flat screen TV, air conditioning, free WiFi, safety deposit box and a minibar. The en suite bathrooms have a hair dryer and complimentary toiletries.
Guests at the Sheki Palace benefit from access to the hotel's fitness centre and can also enjoy relaxing on the sun terrace. The hotel's Shebeke restaurant serves Azerbaijan cuisine. Alternatively, guests can enjoy sweeping views of the city and Greater Caucasus Mountains from the property's terrace restaurant.
FACILITIES
24 hour reception
Room service
Laundry service
Fitness centre
Business centre
Free internet access
PHOTOGALLERY
top
Address: 185 Suleyman Rahimov Str., Baku, Azerbaijan
Telephone: +994 12 596 11 27
DESCRIPTION
Centrally located in downtown Baku a mile from Fountains Square, the newly constructed Diplomat Hotel is equally suited to holidaymakers and business travellers. Its 24 classic rooms and suites are equipped with flat screen TV, tea and coffee making facilities, hair dryers and free WiFi. Soundproofed windows make it easy to shut yourself away from the bustle of the Azeri capital when you wish.
The Diplomat Hotel offers a range of useful services for its guests, including airport pick up, room service, complimentary parking, laundry service, safety deposit boxes and a business centre. There's a restaurant, located on the ninth floor to take advantage of sweeping views of the Caspian Sea, serving European cuisine and a buffet breakfast.
FACILITIES
24 hour reception
24 hour room service
Business centre
Private parking
Laundry service
Free internet access
PHOTOGALLERY
top
Central Park Hotel Baku 4*
Address: 165 Suleyman Rahimov Street, Baku, Azerbaijan
Telephone: +994 12 594 42 35
DESCRIPTION
This seventy room hotel bills itself as a "home away from home" and guests can be assured of comfortable surroundings and a warm welcome. Conveniently located just a five minute walk from Fountain Square in the heart of the city, this four star hotel's rooftop restaurant, Beluga, affords spectacular views over the Caspian Sea.
Rooms are spacious and features include air-conditioning and spa bath as standard. There is free WiFi throughout the hotel and guests can also enjoy the on-site sauna and gym. Informal Café Mondo is the perfect place to relax with a coffee; after dusk you can enjoy a cocktail in front of a view which includes Baku's iconic Flame Towers.
PHOTOGALLERY
top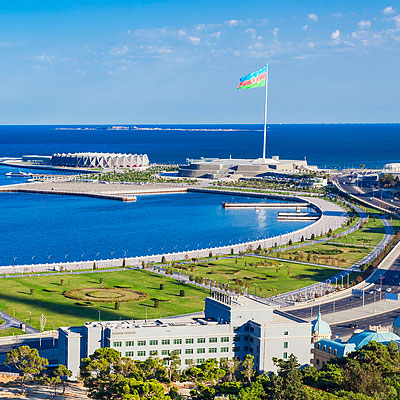 Discover Armenia, Georgia and Azerbaijan - 16 days (CT-02)
Over a period of sixteen days, you will have time to delve beneath the surface of these welcoming countries and beautiful landscapes. Among the places you will explore will be the capital of Armenia moving on to the stunning mountainous landscape of the Kazbegi region of Georgia with its UNESCO listed cathedrals, and finally finishing in Baku, Azerbaijan.

Included: Yerevan - Ejmiatsin - Zvarnots - Garni - Geghard - Khor Virap - Noravank - Areni - Sevan - Dilijan - Haghpat - Tbilisi - Mtskheta - Kutaisi - Bagrati - Gelati - Akhaltsikhe - Vardzia - Borjomi - Gori - Uplistikhe - Alaverdi - Napareuli - Gremi - Signagi - Kish - Sheki - Shamakhi - Baku - Gobustan - Yanar Dag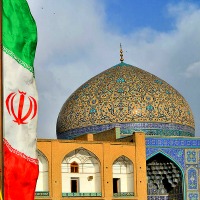 Highlights of Iran and Armenia - 15 days (CT-04)
This two week tour marries exotic Iran with the world's oldest Christian nation, Armenia. A packed programme celebrates the rich cultural heritage of the two neighbours, featuring ancient mosques and palaces as well as monasteries precariously perched alongside river gorges and on hill tops. The tour will delight history fans and architecture buffs, interesting anyone with a desire to travel a little off the beaten track and reap the rewards of a warm welcome.

Included: Shiraz - Persepolis - Pasargadae - Isfahan - Abyaneh - Kashan - Tehran - Tabriz - Jolfa - Khndzoresk caves - Goris - Tatev - Noravank - Khor Virap - Yerevan - Echmiadzin - Zvartnots - Garni - Geghard - Sevan - Dilijan - Haghpat - Sanahin - Goshavank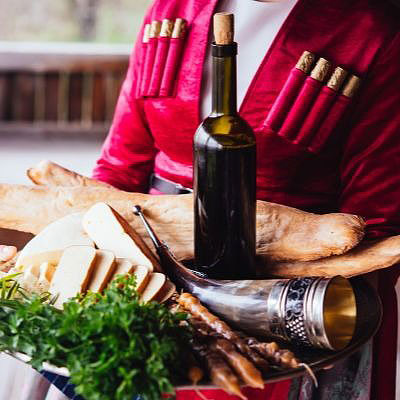 Georgia Wine Tour - 8 days (GE-04)
Georgia's long association with wine production makes it a fascinating destination for wine connoisseurs. This tour visits some of the best vineyards in the country, where you'll learn about the Georgian art of viticulture and taste some of its finest wines. Along the way, you'll stop at some of the many historical and religious sites.

Included: Tbilisi - Signagi - Telavi - Alaverdi - Napareuli - Gremi - Tsinandali - Vardisubani - Mtskheta and Iago's winery - Chateau Mukhrani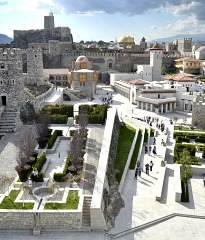 Akhaltsikhe
Located in Southern Georgia, Akhaltsikhe translates as "new fortress" and the renovated Rabati Fortress is an important landmark in this part of the country. Containing the Jakeli family's castle, Akhmediye Mosque and an orthodox church, there's much here to occupy visitors.
Gobustan
Gobustan National Park, located in the Greater Caucasus Mountains is listed by UNESCO as a World Heritage Site for its rock art engravings. These images depict prehistoric hunting scenes, fishing, domestic lifestyles, flora and fauna. The area is also known for its explosive mud volcanoes which occasionally shoot flames high into the air. You'll also find here, unique to this part of Azerbaijan, a gemstone called Gaval Dash which makes a sound like a tambourine when struck.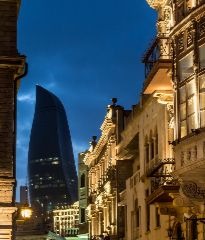 Baku
Azerbaijan's capital and largest city, this is a city where past and present are intertwined. The Old City's Icheri Sheher fortress is a UNESCO World Heritage Site, dominated by the adjacent 12th century Maiden Tower. But there are many more facets to this fortress complex: the Shirvanshah's Palace, the Sinik-Gala minaret, mosques, caravanserais and baths. However, it's the modern city that is making headlines.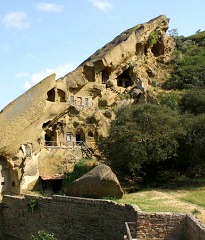 Uplistsikhe
Translating as "the Lord's fortress", Uplistsikhe is one of the oldest urban settlements in the country. This cave city near Gori was cut from the rock on the left bank of the Mtkvari River and thrived until it was abandoned as a result of devastating Mongol Raids in the 14th century. Although some parts of Uplistsikhe were destroyed by an earthquake in 1920, there are many structures and alleyways which remain to be explored, linked by tunnels cut from the rock.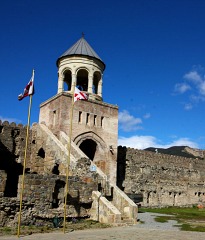 Gori
Gori, named after its hilltop fortress, dating back to the 7th century. Later, the city became an important trade hub. More recently, it was the birthplace of Joseph Stalin and the city is home to a museum containing amongst other exhibits, the former Soviet leader's personal effects and the train in which he travelled to Yalta and Potsdam. Nearby, visitors can take the waters at Gorivaji, said to have healing properties.
Mtskheta
Another of Georgia's UNESCO World Heritage Sites, Mtskheta's long history dates back to before 1000BC. Once the capital of the Kingdom of Iberia, it's located on an ancient trade route. Its many religious buildings include Svetitskhoveli Cathedral as well as the monasteries of St Nino, Jvari and Shio-Mgyime and the Zedazeni Complex which includes the church of St John the Baptist. The city also has a castle and a fortress.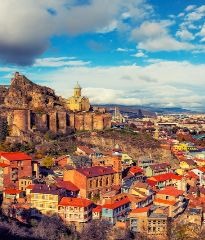 Tbilisi
The Georgian capital straddles the banks of the Mtkvari River. Founded in the 5th century by King Vakhtang I Gorgasali, it contains many bath houses fed by the area's natural hot springs and from it you'll have no problem spotting the Narikala Fortress which can be seen from most parts of the Old Town. The modern city is centred on Freedom Square, from where you can walk along Rustaveli Avenue where many of the best shops and restaurants are located.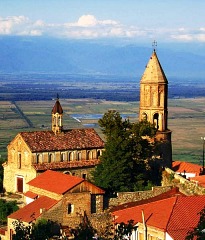 Sighnaghi
With its cobbled streets and balconied homes, you could be forgiven for thinking you were in Italy. Surrounded by over four kilometres of stone walls, the laid back city of Sighnaghi earns its living from wine and people travel to taste the delicious Rkatsiteli, Tsinandali and Saperavi varieties. If you can drag yourself away from the cellars, other attractions include the church of St Stephen with its beautiful bell tower and Bodbe Monastery, burial place of St Nino. Locals believe that if you make a wish on her grave, it will come true.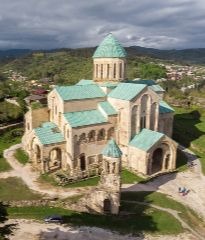 Kutaisi
In the days of the Golden Fleece, Kutaisi was the capital of the ancient kingdom of Colchis and it remains Georgia's second largest city. The jewels in its crown are without a doubt the Bagrati Cathedral and the Gelati Monastery, both UNESCO listed, occupying prime locations overlooking the city and the River Rioni. Other landmarks to check out include the Statue of David near the university, Gora Park with its fabulous vistas and fair reached by car or funicular and the White Bridge near the old palace.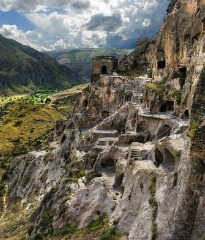 Vardzia
Near Akhaltsikhe, it's well worth taking an excursion to Vardzia, a cave town founded in the 12th century which once housed a population of 50000; as well as people's homes, it featured wine cellars, places of worship and even a sewerage system hewn out of the rock.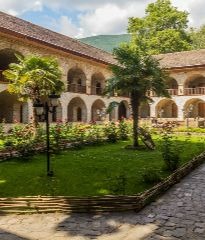 Sheki
Set against a backdrop of snow-capped Caucasus peaks, Sheki developed as a trading centre with many caravanserais located within the city. Two still remain: the Upper and the Lower Caravanserais, built in the eighteenth century. A city with a long history, Sheki is a must for architecture buffs. The Palace of the Sheki Khans is a fascinating building featuring intricate mosaics made from glass imported from Venice; not a single nail was used in its construction. To the north of the city you'll find the ruins of what was once considered an impregnable fortress. Its name, "Gelersan - Gerarsan" translates as "you will come and see".